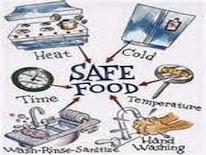 The Food Safety and Hygiene Inspection Services Division (FSHISD) inspects the city's 6,500
+/-
food establishments. Those food establishments include delicatessens, bakeries, grocery stores, retail marine markets, ice cream manufacturers, restaurants, wholesale markets, mobile vendors, hotels and cottage food establishments. In addition, the FSHISD inspects the city's swimming pools, cosmetology salons which includes nail and braiding salons, barber shops, massage establishments, smoke-free workplaces and mattress manufacturers. The staff for the program includes 20 sanitarians, two administrative staff, two supervisors, one sanitarian/plan reviewer, a food technologist and a program manager.
Food-borne infections and intoxications
affect millions of Americans every year. The Food Safety and Hygiene Inspection Services Division offers educational, informational, and consultative sessions for community and industry groups.
News and Alerts

FSHISD applications can be mailed
The Food Safety & Hygiene Inspection Services Division is pleased to inform our customers that beginning Monday, April 11, 2016, applications can be mailed to P.O. Box 37489, Washington, DC 20013. When applying for ID cards, Vending Certificates, or a Plan Review, applicants can mail in their application with all supporting documents and check or money order payment. Applicants no longer need to come to the HRLA Processing Center, unless to make payments using a credit/debit card.

If you have a specific question, feel free to contact the Division by email at [email protected].
Updated on July 2018
Office Hours:
Monday to Friday 8:30 am to 4:30 pm