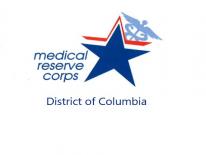 WHAT, WHO, WHEN, WHERE, WHY AND HOW
WHAT - The District of Columbia (DC) Medical Reserve Corps (DC MRC) supports the DC Department of Health (DC Health) in its role as lead for public health and medical emergency preparedness, response and recovery by recruiting, training, and deploying medical and non-medical volunteers to assist with planned events and emergencies.
WHO: The DC MRC is open to medical and non-medical volunteers 18 years of age and older. Whether you are retired, active in your profession, a community member, or a student, we need your assistance in the DC MRC. Volunteers receive free training. There is a growing need for volunteers with medical experience.
WHEN: Volunteers receive free training and then are asked to be available on an as-needed basis. You could be asked to volunteer on weekends, late at night, or first thing in the morning.
WHERE: DC volunteers may be deployed to events on the National Mall, to a District recreation center or shelter, or to a public health site.
WHY: We need our DC MRC volunteers to:
Provide medical screening and support in mass care settings.
Assist with patient tracking at planned events.
Support medical countermeasures (MCM) distribution and dispensing activities
Provide assistance with planned and unplanned public health activities.
HOW: By signing up to be a DC MRC volunteer, you will gain valuable emergency preparedness knowledge and experience through training, exercises, and real-world events. You will train and work alongside DC government agencies, federal partners, non-governmental agencies, and community partners.
We hope you will consider becoming a DC MRC volunteer. For more information, please visit the National MRC Program or contact the DC MRC Coordinator at [email protected].
Service Contact:
Planning, Logistics, Operations & Training Division of HEPRA
Office Hours:
Monday to Friday, 8:15 am to 4:45 pm