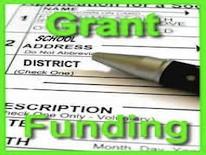 The District of Columbia Department of Health (DOH) supports public health initiatives and health services with local, private (donations) and federal funds. DOH is awarded an average of $120 million annually in federal funding. These funds address priority public health and service needs of District of Columbia residents.
Through grant awards, DOH has partnerships with federal agencies, private grantors or donors, other DC Government agencies, as well as community partners who receive grant awards from DOH. The funds are used to manage and deliver public health initiatives for residents in need of such services as immunization, prenatal care, HIV testing and referral services, substance abuse prevention and recovery services, and occupational injury surveillance. Funds also support public health emergency preparedness services and food safety programs for all residents and guests of the District.
DOH's largest grant awards come from federal agencies like the Departments of Health and Human Services, Housing and Urban Development and Department of Agriculture. DOH applies for funding and accepts these funds through grant agreements. DOH also accepts responsibility to comply with all Federal and local DC Government laws, regulations, and mandates for receiving funds, spending them appropriately and adhering to standards for delivering services. DOH creates policies and procedures to ensure these funds are utilized according to approved plans, monitored by responsible DOH personnel and made available to community partners in a process that is open, fair and competitive. We emphasize accountability, best practices and performance.
DOH Grants Management
The Office of Grants Management & Resource Development (OGM) is available at (202) 442-9237.
The DOH Office of Grants Management is located within the Department's Office of the Director. OGM is the central oversight and processing unit for DOH's grant programs.
DOH Administrations
Grant funds are carefully considered for application and then monitored by units within the DOH, called Administrations. These units are responsible for developing program priorities, applications for funding and providing administrative oversight for millions of dollars in grant funds. Review the information below to learn more about their missions, program priorities and use of grant funds:
Service Contact:
Office of Grants Management & Resource Development
Office Hours:
Monday to Friday 8 am to 5 pm