Wednesday, January 30, 2019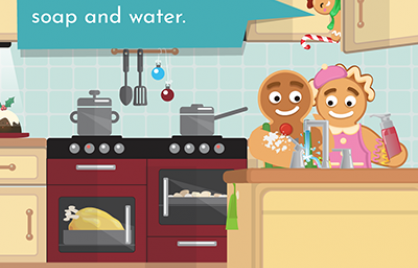 This is a time of year when families and friends come together for fun.
The Centers for Disease Control and Prevention estimates that, each year, 48 million – or 1 in 6 – Americans get sick from a foodborne illness. Of those, 128,000 are hospitalized and 3,000 die. Follow these eight basic food safety steps to make sure you and your guests enjoy the festivities. Additional tips and other resources can be found at Foodsafety.gov.
Minimum Safe Internal Temperatures for Cooked Meats:
145°F for whole cuts of beef, pork, veal, and lamb

160°F for ground meats, such as beef and pork

165°F for all poultry, including ground chicken and turkey

165°F for leftovers and casseroles

145°F for fresh ham (raw)

145°F for fin fish or cook until flesh is opaque

Avoid stuffing a turkey

.

Cooking stuffing in a casserole dish is the safest option, but if you choose to stuff your turkey, stuff the turkey immediately before cooking. Use a food thermometer to check the temperature of the turkey and the stuffing before removing it from the oven. The stuffing should reach 165°F. Wait twenty minutes after the turkey is finished cooking to remove the stuffing.

Keep food out of the "Temperature Danger Zone

."

Bacteria can grow rapidly between 41°F and 135°F. Cold foods like salads should be held at or below 41°F. After cooking, hot foods should be held at or above 135°F. When cooling foods, do so as quickly as possible by separating foods into smaller portions or using an ice bath. Cooling should take place within two hours of cooking, after which foods should be refrigerated immediately.

Do not eat dough

.

Raw cake batter, cookie and pie dough can be tempting to eat, but don't take the risk! Raw dough can contain harmful bacteria like E. coli and Salmonella. Do not allow children to eat or play with raw dough.

Refrigerate leftovers

.

Once leftovers are cooled, store them in your refrigerator. Do not store stuffing inside a leftover turkey. Remove stuffing from the bird and put it in a separate container. Eat leftovers within 3 to 4 days. You can also store leftovers in the freezer for longer periods of time.
Keep Food Safe Links
This year, one in six Americans will get sick from food poisoning. Find out what you can do to keep you and your family safe.
Food Safety Tips for the Holidays
Charts: Food Safety at a Glance