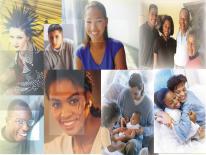 Dr. Thomas Farley, M.D., M.P.H, Senior Deputy Director, Community Health Administration
Biography
About
The Community Health Administration (CHA) of the District of Columbia Department of Health promotes healthy behaviors and healthy environments to improve health outcomes and reduce disparities in the leading causes of disease and death in the District. CHA focuses on nutrition and physical fitness promotion; cancer and chronic disease prevention and control; access to quality health care services, especially medical and dental homes; and the health of families across the lifespan.

CHA's approach targets the behavioral, clinical, and social determinants of health through evidence-based programs, policy, and systems change.

CHA partners with a variety of government agencies as well as clinical and community-based organizations to achieve its goals. Partners include the Office of the State Superintendent of Education, Department of Health Care Finance, Department of Behavioral Health, Child and Family Services Agency, Department of Employment Services, DC Housing Authority, Department of Parks and Recreation, DC Primary Care Association, Unity Health Care, Mary's Center, Children's National Health System, MedStar Health, DC Greens, Martha's Table, Food and Friends, Breathe DC, American Heart Association, American Cancer Society and many others.
Bureaus
Nutrition and Physical Fitness Bureau
The Nutrition and Physical Fitness Bureau facilitates policy, systems, and environmental changes that make the healthy choice the easy choice.
Healthy Food Access Initiatives
Nutrition and Physical Activity Promotion
Special Supplemental Nutrition Program for Women, Infants and Children (WIC)
Breastfeeding Promotion and Support
SNAP-Ed
Family Health Bureau
The purpose of the Family Health Bureau is to protect, promote and improve the health of moms, dads, babies, kids, and teens through screening and surveillance, education, community-clinical linkages, family strengthening programs, preventive services, and positive youth development.
CYSHCN
Health and Sexuality Education
Childhood Obesity
School-Based Health Centers
School Health Services Program
Violence Prevention and Education
Cancer and Chronic Disease Prevention Bureau
The purpose of the Cancer and Chronic Disease Prevention Bureau reduces the incidences, morbidity and mortality of cancer and chronic disease in DC through multi-level preventive strategies, clinical quality improvement, partnerships, community engagement and wellness promotion.
Asthma
Comprehensive Cancer Control Program
Breast and Cervical Cancer
Tobacco Control and Prevention
Cancer Registry
Diabetes
Heart Disease
Stroke
Health Care Access Bureau
The purpose of the Health Care Access Bureau increases access to and utilization of high-quality, patient-centered primary health care services.
Immunization
HPLRP
Oral Health Program
Allied Health Training
National Health Services
Shortage Designation
Health Care Facilities
Refugee Health
J1 Waiver
Additional Information