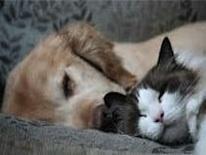 Division of Animal Services
Health Regulation and Licensing Administration
Online Dog Licensing Application Portal is Now Available
We are making our application submission process easier than ever by launching the new Division of Animal Services Online Portal! Now you will be able to submit a variety of applications online including:
New dog registration
Dog license renewal
Replacement of a lost dog tag
Potentially dangerous dog application
Dangerous dog application
Chicken in the school permit
Hobby permit
To submit any of these applications, please visit this website: Division of Animal Services
We recommend using Chrome web browser for optimal functionality. You will be required to create an account, upload all supporting documents and pay the required fee before submitting the application. Once submitted, we will review your application and respond to you via email.

Please ensure you use your Email Address as your User Name. Your Password must be at least 10 characters long and must contain at least:
one capital letter
one lower case letter
one number
one special character (#, $, @, etc...)
If you have any questions/or have any issues, please feel free to contact Sahar Majid at [email protected] .
---
***COVID 19 UPDATES***
COVID-19 Guidances and Best Practices
For the most up to date information on the District's response to COVID-19, including information on best practices, licensure waivers and recommended guidelines, go to coronavirus.dc.gov.
Due to ongoing efforts to combat the spread of COVID-19, effective immediately, the Health Regulation and Licensing Administration (HRLA) is implementing a 100% telework policy and will be available for mail services only.
Walk In Services
PROCESSING CENTER Hours:
The Health Regulation and Licensing Administration (HRLA) Processing Center is open to the public Monday, Tuesday, Thursday and Friday, 9:00am – 1:00pm, and Wednesday, 9:00am – 3:30pm (except holidays).

Individuals may also call the Processing Center at 1 (877) 672-2174 to get an update on their pending application. In response to the ongoing COVID-19 pandemic, all Health Professional Board meetings are currently held virtually. Please check each board's respective website for information on when the next meeting will take place.If you are already in contact with a Health Licensing Specialist (HLS), please forward any documents to said HLS via email.
Services and Information:
Under the guidance of the Department of Health, DC Animal Care and Control provides animal management, zoonotic disease prevention and assists the public with a wide range of animal related issues. Select from the links below for educational resources and information regarding services provided.
Licenses, Permits, Certificates
Animal Care and Control
Rodents and Mosquitos
Regulations
Complaints
Emergency and After Hours Information:
Animal Care and Control Facility
1201 New York Avenue, NE
Washington, DC 20002
24 hour line: (202) 576-6664
Emergency Hours: 24 hours/day
Adoption Hours: Tuesday - Sunday: 12:00 pm – 7:00 pm
DC Health/Health Regulations and Licensing Administration
899 North Capitol Street NE, 2nd Floor
Washington, DC 20002
202-535-2323
Hours of Operation-Monday-Friday 8:30am-4:30pm
DC Animal Care & Control
1201 New York Avenue NE
Washington, DC 20002
202-576-6664
Hours of Operation- Tuesday – Sunday 12:00 p.m. – 7:00 p.m.
Oglethorpe Street Adoption Center
& Medical Center
202-726-2273
Hours of Operation- 9:00 a.m. - 5:00 p.m. Monday - Thursday
9:00 a.m. - 4:00 p.m. Friday
The Department of Health's Animal Services Program is located in the Health Licensing and Regulation Administration.
Mission:
The Animal Services Program seeks to strengthen the bond between humans and animals in the District of Columbia. Our mission is to minimize conflict between people, pets and wildlife while promoting harmonious coexistence. Providing care and support for all animals, residents, visitors and business owners in the District of Columbia is of the utmost importance to our program. Preventing the spread of communicable diseases transmitted from animals to humans, such as rabies and West Nile Virus, is a top priority.
Vision:
A District in which people and animals live together safely and harmoniously.
The Animal Services Program seeks to:
Vigorously promote animal adoption;
Encourage all owners to spay or neuter their pets;
Provide high quality animal sheltering and animal control field services through the DC Animal Care and Control Facility, a facility that operates 24 hours per day, 365 days per year;
Educate the public in a wide variety of issues relating to animals, such as dog licensing, animal emergency preparedness, and how to respond when wildlife is spotted;
Enforce District animal laws;
Ensure that animal-related businesses provide a high level of care to animals and owners;
Assist the public in resolving conflicts that involve animals;
Reduce the number of animal bites; and
Prevent, control, and educate the public about rabies, West Nile Virus, and other diseases that are communicable from animals to humans.
Office Hours:
Processing Center: M-F: 9 am-1 pm, W: 9 am-3:30 pm; Office Hours M-F: 8:15 am-4:45 pm