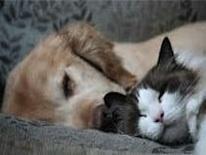 The Department of Health's Animal Services Program is located in the Health Licensing and Regulation Administration.
Mission:
The mission of the Animal Services Program is to strengthen the bond between humans and animals by providing support and care for animals, owners, businesses, and visitors to the District of Columbia as they encounter animals, minimizing conflicts between people and wild animals, and preventing and controlling the spread of communicable diseases transmitted from animals to humans, such as rabies and West Nile Virus.
Vision:
A District in which people and animals live together safely and harmoniously.
The Animal Services Program seeks to:
Vigorously promote animal adoption;
Encourage all owners to spay or neuter their pets;
Provide high quality animal sheltering and animal control field services though the DC Animal Care and Control Facility, a facility that operates 24 hours per day, 365 days per year;
Educate the public in a wide variety of issues relating to animals, such as dog licensing, animal emergency preparedness, and how to respond when wildlife is spotted;
Enforce District animal laws;
Ensure that animal-related businesses provide a high level of care to animals and owners;
Assist the public in resolving conflicts that involve animals;
Reduce the number of animal bites; and
Prevent, control, and educate the public about rabies, West Nile Virus, and other diseases that are communicable from animals to humans.
Services and Information:
The Department of Health and Animal Care and Control staff conducts animal control and animal disease prevention services and assists the public with a wide range of animal related problems. Select from the links below to find complete details of the services and information provided.
Emergency and After Hours Information:
Animal Care and Control Facility
1201 New York Avenue, NE
Washington, DC 20002
24 hour line: (202) 576-6664
Emergency Hours: 24 hours/day
Adoption Hours: Tuesday - Sunday: 12 pm – 7 pm

Office Hours:
Monday through Friday 8:15 am – 4:45 pm