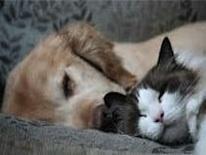 Due to the inclement weather predicted to reach the District, DC Health's Animal Services Program would like to make the following recommendations to pet owners regarding Emergency Pet Preparedness:
Bring Your Pet(s) Indoors Immediately - And keep them indoors until the storm has passed. DO NOT leave pets outside in extreme weather of any kind. Also DO NOT leave pet's tethered outdoors. The predicted large quantities of rain and wind pose a significant threat to your pet's health and safety. Securing your pets indoors ensures their safety by providing shelter from the unpredictable weather.
Have a Plan - If possible arrange with family members or pet friendly hotels in a safe zone outside of the city and gather all necessary supplies for your pet.
If District residents are required to shelter in place/at home Please ensure that you and your pet(s) have at least a week's worth of food, water, medication (if applicable) and copies of all your pet's current vaccination records.
If residents are required to evacuate PLEASE BRING YOUR PETS WITH YOU!!!! No matter the species, breed or temperament DO NOT LEAVE YOUR PETS, BRING THEM WITH YOU!!!!! Please have your pet's secured on a leash or in a carrier. Also, bring copies of your pet's vaccination records/license/microchip information, a photograph of your pet and a week's worth of their food and medicine. All of these steps assist in maintaining the health and establishing custody/ownership of your pet. If you are unable to bring your pet with you Please call DC Animal Care and Control immediately and report the location of your pet to 202-576-6664.
Stay Calm & Stay Tuned - Keep yourself updated on the news reports and directions from the Mayor/Emergency Services. Stay Calm, your pet can sense your emotions and if you are stressed then they will be also. To promote less panic, speak to your pet in a calm, soothing voice. Have your pet's favorite toy or blanket available for their comfort.
If you witness an animal emergency, including animals left outside in extreme weather Please call DC Animal Care and Control at 202-576-6664 to report the location and a description of the animal.
For more information on Emergency Pet Preparedness, Please feel free to check out the Humane Society of the United States' webpage: http://www.humanesociety.org/issues/animal_rescue/tips/pets-disaster.html
And http://www.humanesociety.org/issues/animal_rescue/tips/pet_disaster_preparedness_kit.html .

The Department of Health's Animal Services Program is located in the Health Licensing and Regulation Administration.
Mission:
The mission of the Animal Services Program is to strengthen the bond between humans and animals by providing support and care for animals, owners, businesses, and visitors to the District of Columbia as they encounter animals, minimizing conflicts between people and wild animals, and preventing and controlling the spread of communicable diseases transmitted from animals to humans, such as rabies and West Nile Virus.
Vision:
A District in which people and animals live together safely and harmoniously.
The Animal Services Program seeks to:
Vigorously promote animal adoption;
Encourage all owners to spay or neuter their pets;
Provide high quality animal sheltering and animal control field services though the DC Animal Care and Control Facility, a facility that operates 24 hours per day, 365 days per year;
Educate the public in a wide variety of issues relating to animals, such as dog licensing, animal emergency preparedness, and how to respond when wildlife is spotted;
Enforce District animal laws;
Ensure that animal-related businesses provide a high level of care to animals and owners;
Assist the public in resolving conflicts that involve animals;
Reduce the number of animal bites; and
Prevent, control, and educate the public about rabies, West Nile Virus, and other diseases that are communicable from animals to humans.
Services and Information:
The Department of Health and Animal Care and Control staff conducts animal control and animal disease prevention services and assists the public with a wide range of animal related problems. Select from the links below to find complete details of the services and information provided.
Emergency and After Hours Information:
Animal Care and Control Facility
1201 New York Avenue, NE
Washington, DC 20002
24 hour line: (202) 576-6664
Emergency Hours: 24 hours/day
Adoption Hours: Tuesday - Sunday: 12:00 pm – 7:00 pm
UPDATE ON HOW TO SUBMIT A DOG LICENSE ONLINE:
Effective August 1, 2018, the District of Columbia Health Regulation and Licensing Administration Online Licensing Portal for dog license registration will be temporarily closed. Our office will only accept applications via mail or if you walk in to the following locations:
DC Health/Health Regulations and Licensing Administration
899 North Capitol Street NE, 2nd Floor
Washington, DC 20002
202-535-2323
Hours of Operation-Monday-Friday 8:30am-4:30pm
DC Animal Care & Control
1201 New York Avenue NE
Washington, DC 20002
202-576-6664
Hours of Operation- Tuesday – Sunday 12:00 p.m. – 7:00 p.m.
Oglethorpe Street Adoption Center
& Medical Center
202-726-2273
Hours of Operation- 9:00 a.m. - 5:00 p.m. Monday - Thursday
9:00 a.m. - 4:00 p.m. Friday
Office Hours:
Monday through Friday 8:15 am – 4:45 pm