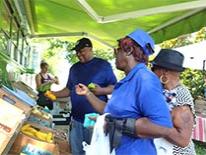 Good Nutrition Is for Everyone!
Healthful food is essential to healthy people. According to the USDA, 11 percent of DC residents are food insecure, meaning that they sometimes go hungry. Many DC residents have limited ability to purchase, prepare and consume healthful foods because they lack the funds, they live in a neighborhood without nearby options (a food desert), and maybe lack the knowledge of how best to choose and use fresh produce.
As part of DC Health's commitment to health equity for all DC residents, activities within the Nutrition and Physical Fitness Bureau focus on all the factors that impact a resident's ability to purchase affordable, nutritious foods. For those facing food insecurity, NPFB programs help fill the gap by providing access to food benefits and nutrition education.
Service Contact:
Nutrition and Physical Fitness Bureau
Office Hours:
Monday to Friday 8 am to 5 pm