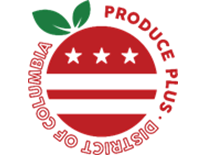 Produce Plus is funded by DC Health and administered by FRESHFARM. The goal of Produce Plus is to provide locally grown produce to DC residents with limited access to fresh, healthy food. The Produce Plus season runs from the beginning of June until the end of September.
How does Produce Plus work?
From early June through the end of September, participants get $40 per month to spend on local produce of their choosing at participating farmer's markets and farm stands throughout Washington, D.C. These funds increase access to fresh fruits and vegetables while also generating meaningful income for local farmers, many of whom are also first generation farmers and BIPOC farmers.
How do I enroll in Produce Plus?
You can enroll in Produce Plus online or over the phone.
Please note, submission of this form does not constitute enrollment in the program. After you successfully complete the form, FRESHFARM will follow up with next steps.
I was accepted into the Produce Plus Program, what do I do next?
In order to start using your Produce Plus benefits, you will need to pick up your Produce Plus card.
Where can I use my Produce Plus Card?
You can use your Produce Plus card at any of the following locations: Produce Plus Locations
For more information, please visit the Produce Plus website here: Produce Plus – FRESHFARM or call the Produce Plus Hotline at (202) 888-4834 Monday – Friday 9am -3pm.
Please see below for additional contact information:

Jo-Ann Jolly
Program Manager
[email protected]
(202) 442-9140"