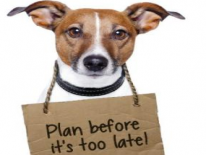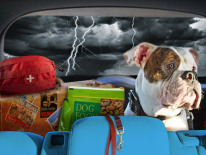 Emergency Pet Preparedness
In an emergency your pet will depend on you to protect their safety and well-being. DC Heath's Animal Services Program encourages all residents and pet owners to be prepared in case of an emergency or evacuation event. Emergency situations can last for hours or days and may require temporary or permanent evacuation. Below you will find tips to assist you and your pets in making it safely through an emergency event.
Safe Haven
In the event of an emergency requiring evacuation never leave pets behind. If it's not safe for you and your family, it's not safe for your pets. Plan ahead by identifying pet friendly hotels or kennels outside of the evacuation zone to house you and your pets. If you are unable to afford hotel accommodations or kennels, make arrangements for you and your pets to stay with friends or family in a safe area well outside of the city. If all else fails and you are unable to bring your pet with you during an emergency evacuation immediately contact DC Animal Care and Control at 202-576-6664 to report the location of your pet.
Proper Identification
Make sure all pets wear collars and tags with up-to-date identification information. Your pet's ID tag should contain name, telephone number and any urgent medical needs. Be sure to also write your pet's name, your name and contact information on your pet's carrier. DC Health recommends microchipping your pet as a more permanent form of identification. A microchip is implanted under the skin in the animal's shoulder area, and can be read by a scanner at most animal shelters. Always bring pets indoors at the first sign or warning of a storm or disaster. Pets can become disoriented and wander away from home in a crisis. During an evacuation stay calm and keep a close eye on your pet. Keep them safely confined to carriers or on leash and under your control at all times.
Emergency Pet Kit
Hope for the best but plan for the worst. To minimize evacuation time have a disaster kit packed and ready to go. Your kit should include the following.
A pet first aid kit and guide book
Sturdy leashes, harnesses and/or carriers to transport pets safely and ensure that they can't escape
3-7 days' worth of canned or dry food (be sure to rotate every two months)
Drinking water, bowls, cat litter/pan and a manual can opener if your pet eats canned food
Photocopies and/or USB of medical records and a waterproof container with a two-week supply of any medicine your pet requires
Current photos of you with your pet(s) as well as a stand alone photo of your pet in case they get lost
Information on feeding schedules, medical conditions, behavior problems, and the name and number of your veterinarian in case you have to foster or board your pets
Birds, Reptiles and Other Small Pets

DC Health recognizes that some residents may have other animals as a part of their family that may require specific care not mentioned above. Here are a few tips for pets other than dogs and cats.
Birds should be transported in a secure travel cage or carrier
In cold weather, make certain you have a blanket over your pet's cage. This may also help reduce the stress of traveling
A snake may be transported in a pillowcase, but you should have permanent and secure housing for him when you reach a safe place
Lizards can be transported like birds (see above)
Small animals, such as hamsters, gerbils, mice and guinea pigs, should be transported in secure carriers with bedding materials, food and food bowls
Items to keep on hand: Salt lick, extra water bottle, small hide box or tube, a week's worth of bedding.
Take a large, sturdy bowl for your pet to soak in. It's also a good idea to bring along a heating pad or other warming device, such as a hot water bottle
Click the links below for more information on pet emergency preparedness.
https://www.humanesociety.org/resources/pet-disaster-preparedness-kit
https://www.redcross.org/get-help/how-to-prepare-for-emergencies/pet-disaster-preparedness.html
https://www.aspca.org/pet-care/general-pet-care/disaster-preparedness