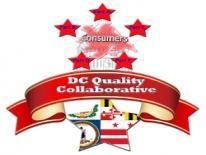 One Mission, One Vision, Many Collaborators
The DC Collaborative is committed to improving the satisfaction, health and well-being of customers by providing TA, resources, and exchange of ideas in Clinical Quality Management (CQM) to the DC Eligible Metropolitan Area (EMA) Ryan White Service Providers and customers, so that they can deliver high-quality healthcare and support services.
Collaborative Milestones:
2011: Formed with sponsorship from HRSA/HAB and
the Center for Quality Improvement Innovation (CQII, formerly NQC)
2012: Transition to being fully supported by HAHSTA and the Response Team
2014: Began using client level data from DC CAREWare to implement focused improvement projects
2016: DC Collaborative wins CQII Award Sustainable Clinical Quality Management Program
2018: Joined end+disparities ECHO collaborative, the largest HIV quality improvement learning collaborative, which focused on eliminating disparities in viral load suppression among Black, African-American, and Latina Women, MSM of color, Youth and Adolescents (13-24), and Transgender populations.
Overall, the collaborative has been a key component in improving the Ryan White Continuum of Care .
The Collaborative is led the CQM Committee for the Ryan White Part A and B programs – The Collaborative Response Team. This steering committee is responsible for managing quality infrastructure, measurement, improvement, and culture in the DC EMA. They serve as a catalyst to improve service delivery, consumer satisfaction, and clinical outcomes in the region. Membership of the Response Team is open to Ryan White recipient staff, sub recipient staff, as well as customers. If you are interested in joining the response team please email this application .
Currently the Collaborative is leading the following CQM activities:
Monthly Collaborative Virtual Meetings
Quarterly Learning Sessions
Training of Customers on Quality
Regional Affinity Groups
Access More Resources Here: