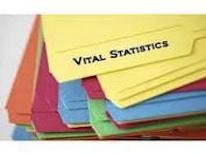 Office Hours: 8:30 am to 3:30 pm
12/11/2018: The social security number data transmission issue has been resolved. If you have delivered a newborn since October 1, 2018 and requested courtesy data transmission to the US Social Security Administration (SSA), your information has been submitted. Please allow 2-3 weeks for the SSA to mail your baby's social security card. If you would like to instead apply for a social security number at an SSA field office, please access this link for instructions: SSA Brochure.
The DC Vital Records Division will open at 10am on the 3rd Wednesday of every month to facilitate mandatory staff training.
10/17/18 11/14/18* 12/11/18* 01/16/19 02/20/19 03/20/19 04/17/19 05/15/19 06/19/19 07/17/19 08/21/19 09/18/19
*Adjusted due to holiday
In addition, on Tuesday, December 18th, it will close at 11:30am. We apologize for any inconvenience this may cause.
Vital Records is responsible for collecting, preserving and administering the District's system of birth and death records. The District of Columbia began recording births and deaths on August 1, 1874. In accordance of the Vital Records Act of 1981, information is obtained from hospitals, the Medical Examiner's office, funeral directors and other states.
Persons entitled to obtain a certified copy of a birth or death certificate are applicants having "direct and tangible interest." DC Code Section 7-220(1) states "the registrant, a member of his or her immediate family, his or her guardian, or their legal representatives shall be considered to have a direct and tangible interest. Others may demonstrate a direct and tangible interest when information is needed for determination or protection of personal or property right".
The term "legal representative" includes an attorney, physician, funeral director or other authorized agent acting on behalf of the registrant or his or her family.
The term "immediate family member" includes mother, father, sister or brother. Proof of relationship is required.
Birth or death certificates are provided if the birth or death occurred in the District of Columbia. Copies of these records may be requested in person or by mail at 899 North Capitol Street, NE, First Floor, Washington, DC 20002, by phone at (877) 572-6332 and online through VitalChek.com. Click one of the below links for more information on how to obtain certificates or receive other Vital Records Division services.
Service Contact:
Center for Policy Planning and Evaluation, Vital Records
Office Hours:
Monday to Friday 8:30 am to 3:30 pm