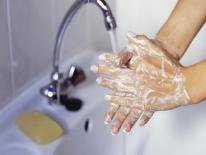 What is Influenza?
Influenza, commonly called "the flu," is a contagious disease caused by the influenza virus. You can catch the flu any time of the year, but most cases of flu tend to occur between October and May of the following year. Typical influenza illness includes fever and respiratory symptoms, such as dry cough, sore throat, runny or stuffy nose, as well as headache, muscle aches, and often extreme fatigue. Although nausea, vomiting, and diarrhea can sometimes accompany influenza infection, especially in children, these symptoms are rarely the primary symptoms. Compared to the common cold, influenza infection is often more severe and can cause more serious complications.
Jump to:
Preventing Infection
The best way to prevent the flu is to vaccinate!
The Centers for Disease Control and Prevention (CDC) recommends a yearly seasonal flu vaccine as the first and most important step in protecting against influenza viruses
Inactivated influenza vaccine (IIV), recombinant influenza vaccine (RIV), or live attenuated nasal spray influenza vaccine (LAIV4) are approved for use this season.
Call your doctor's office or find a health provider to get the vaccine as soon as possible, preferably by the end of October.
The types of influenza viruses that the vaccine protects against can change each year based on international surveillance and scientists' estimations about which types and strains of viruses will circulate in a given year. This year influenza vaccines have been updated to better match circulating viruses (influenza A [H3N2] and influenza B [Victoria] components were updated).
For more information about the current influenza season, including changes in vaccine recommendation and what is new this flu season, please visit the following page.
There are everyday actions you can take to stop the spread of influenza!
Try to avoid close contact with sick people.
While sick, limit contact with others as much as possible with others to keep from infecting them.
If you are sick with flu-like illness, please stay home for at least 24 hours after your fever is gone (without the use of fever-reducing medications) except to get medical care or for other necessities.
Cover your nose and mouth with a tissue when you cough or sneeze. Throw the tissue in the trash after you use it.
Wash your hands often with soap and water. If soap and water are not available, use an alcohol-based hand rub.
Avoid touching your eyes, nose and mouth. Germs spread this way.
Clean and disinfect surfaces and objects that may be contaminated with germs like the flu.
For additional information about Influenza, please visit the CDC website.
DC Facilities Accepting Medicaid
►Information on surveillance and reporting, current and past DC influenza surveillance data
Service Contact:
Center for Policy, Planning and Evaluation Division of Epidemiology- Disease Surveillance and Invest
Office Hours:
Monday to Friday 8:15 am to 4:45 pm