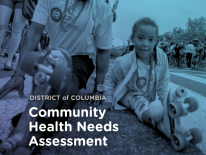 The city's Community Health Improvement Process includes a cycle of health status needs assessments and improvement plans that guide population health improvement in the District.
View and interact with the current DC Community Health Needs Assessment (CHNA), a comprehensive, online microsite that describes the District's health status and context around residents' lived experiences.
In analyzing key health, demographic, and socioeconomic data, we gather information to:
Better understand the needs, challenges, strengths and opportunities for health to DC residents; and
Identify ways to leverage strengths and opportunities so our systems can better meet our unique needs and challenges.
This assessment serves as a resource that catalogs the District's existing assets; healthcare services and facilities; public health infrastructure; community partnerships mobilized to address priority needs; promising practices and policies; population health data; and funding opportunities.
Data presented in this assessment are a mix of important population-level health outcomes from a variety of primary and secondary data sources. In 2019, DC Health and the DC Hospital Association partnered to conduct a shared Community Health Needs Assessment Survey to include the lived experiences and priorities of District residents into the city's assessment. We hope this CHNA will serve as a resource to improve the health and wellness of residents of the District of Columbia.
For more information or to get involved, sign up at OurHealthyDC.org or contact us via email ([email protected]) or phone ((202) 442-9030).