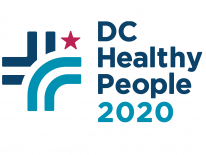 Data Dashboard (interactively updates the 20 Leading Health Indicators)
Amplify your voice in the community health improvement process and forthcoming Community Health Needs Assessment by joining Our Healthy DC, an online tool where you can guide the conversation.
DC Healthy People 2020 (DC HP2020) strives to identify local health improvement priorities, provide relevant and measurable objectives and goals, and engage multiple sectors to take actions to strengthen policies and improve practices that are driven by the best available evidence and knowledge. DC HP2020 forms an integral part of the Community Health Improvement Process, using the Community Health Needs Assessment to set health goals and priorities and, along with stakeholders, determine community health objectives and targets.
DC HP2020 Development Process
Aims:
Bring traditional and non-traditional stakeholders to the table to facilitate coordination and improve population health using social determinants of health and a health equity framework.
Improve coordination of planning, community engagement, and health programs/services provided in DC.
Identify policies that support health outcomes.
Six working groups, with representation from over 30 stakeholder organizations and DC Health, were formed in 2015 to finalize objectives, set targets, evaluate appropriate strategies, and create a shared community agenda (DC Healthy People 2020 Framework). Community input was incorporated into the framework. Since the release of the framework, a smaller Advisory Committee was formed (December 2017) to continue to support monitoring and implementation, identify emerging issues, and support data infrastructure improvements. Community engagement is a key tenet of this process and is solicited on an ongoing basis as well as through community surveys, strategic events, and forums.
For more information or to get involved, sign up at OurHealthyDC.org or contact us via email ([email protected]) or phone ((202) 442-9030).