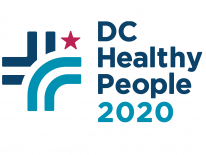 The city's Community Health Improvement Process includes a cycle of health status needs assessments and improvement plans that guide population health improvement in the District.
View and interact with the current DC Community Health Needs Assessment, a comprehensive, online microsite that describes the District's health status and context around residents' lived experiences.
DC Healthy People 2020 (DC HP2020) serves as the city's shared agenda and Community Health Improvement Plan, which collaboratively sets goals and objectives and monitors progress toward 2020 targets for important population health outcomes. Explore the DC HP2020 Framework, along with the Action Plan and Leading Health Indicator Data Dashboard.
There are continuous opportunities for residents and partners to get involved in the process. Amplify your voice in the Community Health Improvement Process and the forthcoming development of DC Healthy People 2030 by joining Our Healthy DC, an online tool where you can help guide the conversation.
DC Healthy People Development Aims:
Meaningfully engage the community throughout the community health improvement process to ensure a diverse group of voices are included in determining city-wide priorities, objectives, and actions.
Create a shared community health improvement agenda by engaging a broad coalition of traditional and non-traditional stakeholders to facilitate coordination and improve population health via collective impact.
Instill and promote the use of a health equity lens and a focus on social/structural determinants of health to achieve mutual goals for all partners.
Support usage of shared population health data to drive city-wide policy and programmatic decision-making.
For more information or to get involved, sign up at OurHealthyDC.org or contact us via email ([email protected]) or phone ((202) 442-9030).