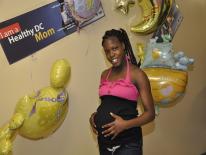 The District of Columbia Department of Health has programs that assist women who are pregnant or want to be pregnant. There are also programs for men who need help with parenting or pregnancy prevention. Services include:
Free Pregnancy Tests
Even at the very beginning of a pregnancy, your baby is developing fast, so it's important to find out early on if you're pregnant.
Women can obtain a free pregnancy test by calling 1-800-MOM-BABY (1-800-666-2229) to find a location near them.
Both men and women can receive free condoms and family planning counseling and referral by calling 1-800-666-2229.
For information call 1-800-MOM-BABY (1-800-666-2229).
Prospective and eligible parenting women and men also have an opportunity to participate in programs geared to educate and support their needs. These programs include:
DC Healthy Start Project (DCHS) enrolls pregnant and postpartum women with infants up to 3 months. The Project provide case management/home visitation to eligible participants until the child's second birthday. The Project also provides free pregnancy test and screenings in community settings as well as mobile curbside health services for pregnant and parenting women. The Project's male component recruits and case manages men with infants up to 1 year old. The goal of the project is to improve birth outcomes and reduce the numbers of infants that die in Wards 5 thru 8.
INTRODUCING THE NEW DC HEALTH AND WELLNESS CENTER
DC Health and Wellness Center
77 P Street NE
Washington, DC 20002
202-741-7692
The new clinic offers easy and affordable sexual health care with a bilingual staff, a convenient location, and same-day appointments. Our caring professionals offer expert services, including:
Health screenings
HIV and STD prevention resources
STD treatment
Pre-Exposure Prophylaxis (PrEP)
Post-Exposure Prophylaxis (PEP)
Hepatitis care
Sexual health counseling and education
Reproductive health services
Immunizations
And more!
Service Contact:
Perinatal and Infant Health Bureau
Office Hours:
Monday to Friday 8:15 am to 4:45 pm
Service Location:
GIS Address:
899 North Capitol Street, NE