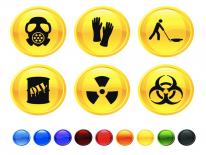 What is Bioterrorism?
A bioterrorism attack is the deliberate release of viruses, bacteria, or other germs (agents) used to cause illness or death in people, animals, or plants. These agents are typically found in nature, but it is possible that they could be changed to increase their ability to cause disease, make them resistant to current medicines, or to increase their ability to be spread into the environment. Biological agents can be spread through the air, through water, or in food. Terrorists may use biological agents because they can be extremely difficult to detect and do not cause illness for several hours to several days. Some bioterrorism agents, like the smallpox virus, can be spread from person to person and some, like anthrax, cannot. For information on which bioterrorism agents can be spread from person to person, please see the alphabetical list of bioterrorism agents.
Bioterrorism Agent Categories
Bioterrorism agents can be separated into three categories, depending on how easily they can be spread and the severity of illness or death they cause. Category A agents are considered the highest risk. Category B are the second highest risks and Category C are those agents that are considered emerging threats for disease.
Category A
These high-priority agents include organisms or toxins that pose the highest risk to the public and national security because:
They can be easily spread or transmitted from person to person
They result in high death rates and have the potential for major public health impact
They might cause public panic and social disruption
They require special action for public health preparedness.
Category B
These agents are the second highest priority because:
They are moderately easy to spread
They result in moderate illness rates and low death rates
They require specific enhancements of CDC's laboratory capacity and enhanced disease monitoring.
Category C
These third highest priority agents include emerging pathogens that could be engineered for mass spread in the future because:
They are easily available
They are easily produced and spread
They have potential for high morbidity and mortality rates and major health impact.
Bioterrorism Surveillance
Sentinel Surveillance
Bioterrorism agents are on the Nationally Notifiable Conditions list. Therefore, infection with a bioterrorism agent in the District is required to be reported to the District of Columbia Department of Health (DC Health). For a complete list of Nationally Notifiable Conditions, visit the Centers for Disease Control and Prevention (CDC) website.
Syndromic Surveillance
DC Health has a syndromic surveillance system in place that collects emergency department data from hospitals within the District of Columbia. Based on chief complains, this system is designed to identify possible high priority bioterrorism agents such as Bacillus anthracis, Yersinia pestis, Francisella tularensis, Clostridium botulinum.
For a complete list of Bioterrorism agents, visit the Centers for Disease Control and Prevention (CDC) website.
Physicians: To report Bioterrorism to the Department of Health, please immediately contact the Health Emergency Preparedness and Response Administration at (202) 671-4222.
View a complete list of disease factsheets offered by the Division of Epidemiology- Disease Surveillance and Investigation.
Service Contact:
Health Emergency Preparedness and Response Administration
Office Hours:
Monday to Friday, 8:15 am to 4:45 pm