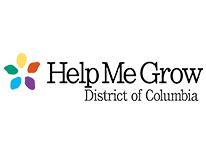 Help Me Grow District of Columbia (HMG DC) promotes healthy development for children and to support healthy birth for pregnant mothers in the District of Columbia. HMG DC is a unique, comprehensive, and integrated district-wide system designed to address the need for perinatal supports, early identification of developmental and/or behavioral concerns, and then to link mother's, children, and their families to community-based developmental and behavioral services and supports.
HMG DC is an effective system because its efforts revolve around uniting a community to address the need for early detection through surveillance and screenings of children and building connections to community-based services and supports to address their needs. Our community includes hospitals, pediatric primary-care practices, early care and education professionals, families, and grassroots community organizations.
The System
Making the Connection – receive calls regarding concerns about a pregnant mother or a child's development or behavior, assess needs & available resources, and refer families to services.
Educating Providers – educate professionals about developmental surveillance & screening while promoting access to services.
Building the Network – develop relationships within the community & maintain a validate directory of local resources and services.
Identifying Gaps & Barriers – collect and analyze data to identify needs and barriers to connecting families to resources.
How WE Help
HMG DC recognize that the health and development of children starts during pregnancy. Additionally, early detection and intervention are critical for optimal outcomes for children, but too often children miss this opportunity. HMG DC provides a free, confidential, centralized telephone access point that links every family in DC to a care coordinator that will answer questions and concerns about their pregnancy or child's development, connect them with services in their community, and follow-up to ensure a connection is made.
If you are concerned about a child's development or are an expecting mother, please contact 1-800-MOM-BABY (1-800-666-2229) and speak with a care coordinator. You can also email Help Me Grow DC for more information.
---
Is Your Child's Growth On Track?
Ready for a snapshot of your child's development? HMG DC offers the Ages and Stages Questionnaire (ASQ) to families in the District. Complete it online when it is convenient for you. It only takes 10-15 minutes to complete. One of our care coordinators will call you to talk about the results. They can suggest activities to support your child's growth at home in the community.