DC HAI Advisory Committee Overview
The DC Healthcare-Associated Infections (HAI) Advisory Committee is comprised of stakeholders with a variety of expertise and experience in HAI prevention and control. The Advisory Committee makes recommendations to the DC government on the prevention, surveillance and public reporting of healthcare-associated infections. Members include representatives from DOH, hospitals, long-term care centers, primary care practices, dialysis centers, academic institutions and coalitions, and other governmental and non-governmental partners.
Vision: To help all types of healthcare facilities to provide the best possible quality of care in the District by ultimately eliminating HAIs.
Mission: To identify HAI prevention activities, recommend evidence based practices and sustainable interventions, establish targets and monitor and communicate progress to stakeholders and the public.
For more information about stakeholder representation on the HAI Advisory Committee, please view our HAI Advisory Committee Infographic below or by clicking here.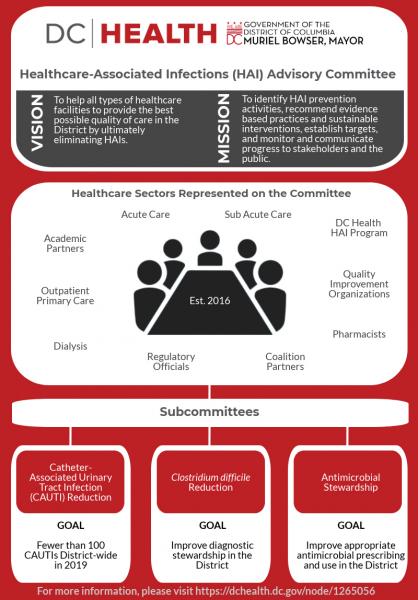 DC HAI Advisory Committee Membership
Advisory Committee members are nominated by their professional associations to serve on behalf of their larger stakeholder group and healthcare sector.
Below is a list of all professional associations that currently have representatives on the DC HAI Advisory Committee:
| Sector | Professional Association |
| --- | --- |
| Acute care facilities | |
| Coalitions | Health and Medical Coalition |
| Non-acute long term care facilities | |
| Outpatient dialysis clinics | |
| Outpatient primary care clinics | |
| Pharmacists | |
| Physicians | |
| Quality improvement network | |
For more information about how to become a member, please reach out to your professional association (if listed above) or send an email to [email protected].
Materials from Past DC HAI Advisory Committee Meetings