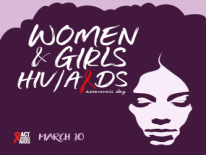 Last Date:
Details:
March 10 is National Women and Girls HIV/AIDS Awareness Day, a day to bring attention to how HIV and AIDS affect the health and well-being of women and girls within our community.
This year's theme, "HIV Prevention Starts with Me," reminds us that everyone, regardless of their HIV status, can make an impact in preventing new HIV infections in women and their partners. The theme encourages women to take charge of their health through measures such as using condoms and taking medicine called pre-exposure prophylaxis (PrEP) if they are at high risk of getting HIV. Together with the Mayor's 90/90/90/50 Plan, we can in end HIV in the District.
Events:
District of Columbia
Maryland
Women and Girls HIV/AIDS Day
March 9, 2019; 10 AM - 12:30 PM
Kentland Community Center
2413 Pinebrook Avenue
Greater Landover, Maryland 20785
Click for more information and to register
Sponsors:
Sisters4Sisters, Inc.