(Washington, DC) – Today, Mayor Muriel Bowser and DC Health remind parents and caregivers across the District to ensure their children and teens obtain the necessary immunizations required for school.

"The start of any school year is an exciting time for teachers, students, and families. As we make our back-to-school lists, make sure you have immunizations and well child visits on your list," said Mayor Bowser. "Every student deserves a strong start to the school year, and that starts on day one and it starts by taking care of their health. By making sure our children are up to date on their immunizations, we can all do our part to keep our schools safe, healthy places of learning."

DC Health recommends that families schedule visits before the first day of school to allow time for any necessary follow-up appointments or vaccinations. Students in every grade are required to be up to date on vaccinations. A summary of vaccines required to enter key grades in the District can be found here.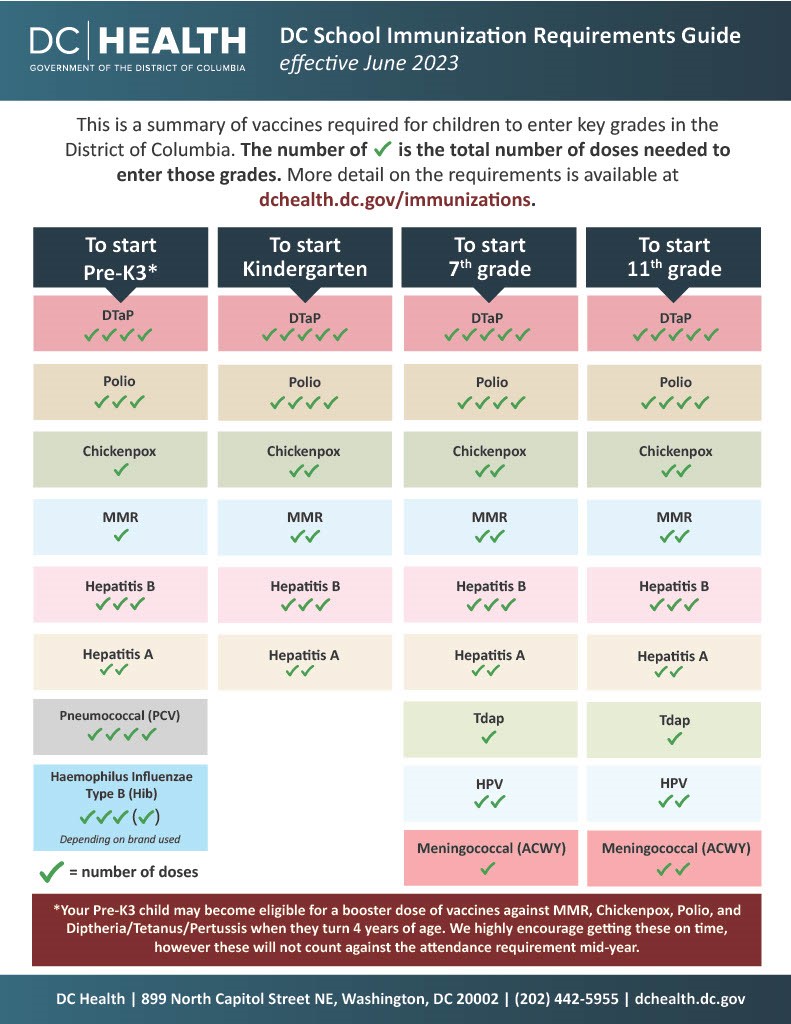 The best place for DC families to access required childhood immunizations is through their medical provider. However, DC Health and its partners have expanded access to vaccination services which include:
School-Based Health Centers: Families with students ages 3 and older will be able to visit any school-based health center, regardless of where the student is enrolled, for a vaccination-only appointment.
District Mobile Medical Units: Community providers are placing mobile units at schools, recreation centers, and other community locations.
Pediatric Immunization Clinics: Daily vaccination opportunities conducted alongside community partners at schools throughout the District.
All pediatric immunization clinics are free, though insured families should bring their insurance cards to their immunization appointments.
For more information on the pediatric immunizations and to find the clinics near you, DC Health's August calendar has a comprehensive list of them.
For more information and to register for a pediatric immunization clinic, visit pedsvax.dc.gov.

This year, DC Health is also debuting a new Electronic Universal Health Certificate (e-UHC) provider portal. This new portal allows medical providers the option to submit the required UHC health assessment forms directly to schools and DC Health. Families whose providers participate in this program will no longer have to bring a hard copy of the student's UHC to their school.

By eliminating this barrier, DC Health hopes to increase UHC submission rates to support schools in understanding the health needs of their students.

Completing the UHC requires critical well child visits that ensure students are healthy, up to date on their immunizations, and ready to get back to school.

"Well child visits are vital to identify and address any health concerns before they become more serious," said Dr. Ayana Bennett, Acting Director of DC Health. "These visits also provide an opportunity for parents to discuss any behavioral or developmental concerns with their child's healthcare provider. We understand that families have faced unprecedented challenges due to the COVID-19 pandemic. However, it's crucial that parents prioritize their children's health and schedule well child visits with their healthcare provider as soon possible."

Well child visits typically include a physical exam, developmental and behavioral screenings, and vaccinations. These visits are essential to monitor a child's growth and development, ensure they are meeting developmental milestones, and prevent the spread of vaccine-preventable diseases.


Social Media:
Mayor Bowser Twitter: @MayorBowser
Mayor Bowser Instagram: @Mayor_Bowser
Mayor Bowser Facebook: facebook.com/MayorMurielBowser
Mayor Bowser YouTube: https://www.bit.ly/eomvideos