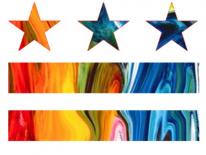 For the latest information about events go to Capital Pride Alliance.
---
FIT DC on Black Lives Matter Plaza
Saturday, June 5
11:30 am
Workout led by Gym Jonez (Free BLM Plaza workout mat for first 100 participants)

Performance by Backyard Band

Refreshments by Turning Natural

Walk-up Vaccination Clinic
RSVP: bit.ly/BLMPlazaDC
Leading with Pride 2021
Saturday, June 25, 2021
Leading With Pride 2021 will begin with a kick-off event on June 5, 2021. We'll also be hosting youth-focused intersectional Pride (e.g., Black, Trans, AAPI, and Latinx) activities and events in the weeks that follow.
Montgomery County
Pride in the Plaza
Saturday, June 27
1 pm – 8 pm
LGBTQ+ and HIV Resource Fair, Mini-Ball, Art, Food, HIV Testing, Giveaways
DC Black Pride Pool Party Fundraiser

Join DC Black Pride and VIDA Fitness for an evening sunset pool party. Take a dip in the pool under the stars on the roof deck of The Yards VIDA Fitness.

Shop DC Black Business Pop Up Shop Summer 2021
June 19, 2021, July 17, 2021, August 14, 2021, September 18, 2021, October, 2021 TBD
Think Backyard Boogie meets Black Business Marketplace...join team CCC for a day of music, superior products and positive vibes.

Pride in the Sky at Hedy's Rooftop
June 9 and June 16, 2021

SYMAL Fundraiser: Outdoor Class with Barre3 14th Street
Saturday, June 12
8 am
Two of your favorite neighborhood studios, barre3 14th Street and barre3 Bethesda, are teaming up to celebrate Pride Month, support LGBTQ youth & bring you a full-body, balanced workout.
Pride Month Social - Stonewall Edition
Freddy's Beach Bar, Arlinton, VA
June 28, 2021
7 pm - 9pm