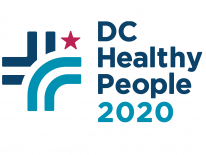 Check out the DC Healthy People 2020 Framework, a shared community agenda that monitors 150 objectives and targets for 2020 and recommends over 85 strategies for improving population health.
DC Healthy People 2020 (DC HP2020) strives to identify local health improvement priorities, provide relevant and measurable objectives and goals, and engage multiple sectors to take actions to strengthen policies and improve practices that are driven by the best available evidence and knowledge. DC HP2020 forms an integral part of the Community Health Improvement Process, using the Community Health Needs Assessment to set health goals and priorities and, along with stakeholders, determine community health objectives and targets.
DC HP2020 Development Process
Aims:
Bring traditional and non-traditional stakeholders to the table to facilitate coordination and improve population health using social determinants of health and a health equity framework.
Improve coordination of planning, community engagement, and health programs/services provided in DC.
Identify policies that support health outcomes.
Six working groups, with representation from over 25 stakeholder organizations and DOH, were formed in 2015 to finalize objectives, set targets, evaluate appropriate strategies, and create an shared community agenda. Community input has been and will continue to be incorporated throughout and an advisory board reviews and approves the framework. DC HP2020 will be shared in an online interactive platform that monitors progress toward key health objectives.
For more information or to get involved, sign up using our Webform or contact us via email ([email protected]) or phone ((202) 442-9030).
DC HP2020 Topic Areas*
Access to Health Services
Asthma
Adolescent Health
Blood Disorders and Blood Safety
Cancer
Diabetes
Disability Services
Environmental Health
Food Safety
Foreign-Born Populations
Healthcare-Associated Infections
Heart Disease and Stroke
Hepatitis C
HIV/AIDS
Immunization and Infectious Diseases
Injury and Violence Prevention
Lesbian, Gay, Bisexual and Transgender Health
Maternal, Infant and Child Health
Mental Health and Mental Disorders
Nutrition, Weight Status and Physical Activity
Older Adults
Oral Health
Preparedness and Response
Public Health Infrastructure
Sexually Transmitted Diseases
Sleep Health
Social Determinants of Health
Substance Use
Tobacco Use
*subject to change