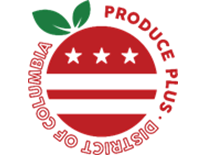 Produce Plus Direct, funded by DC Health and administered by DC Greens, provides locally grown, fresh produce to DC residents with limited access to fresh, healthy food.
Produce Plus Direct begins July 14, 2020 and will run through September 30, 2020.
Registration opens June 23, 2020, and residents can enroll in the program by calling (202) 888-4834 or by visiting dcgreens.org/customers.
Learn more about DC Greens by visiting dcgreens.org.
For additional information, contact,
Karen Franco
Program Coordinator
[email protected]
202-442-5891
or
Call or email the Produce Plus hotline at (202) 888-4834 or [email protected]