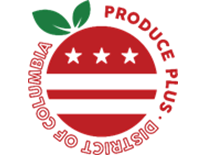 Produce Plus is a locally-funded farmers' market incentive program designed to increase access to healthy and nutritious food options for income-eligible District residents, as well as, to promote the presence and benefits of Farmers' Markets, with the ultimate goal of improving public health outcomes.
What are the benefits? Between June and September, eligible DC residents will be able to receive up to $20 per week in fresh, local produce at farmers' markets throughout the area. (2 visits per week. $10 per visit.)
Who is eligible for the program? Anyone with DC residence (usually confirmed with a government ID such as a drivers license) who has an ID card from any of the following: SNAP, Medicaid, TANF, Medicare QMB, WIC, the Senior Farmers Market Nutrition Program, or SSI Disability.
Which farmers and markets participate in Produce Plus? Details, including market locations and hours, are available at dcgetfresh.com.
For additional information, contact,
Michael Segal
Healthful Food Access Coordinator
(202) 442-5874
[email protected]
or
Call or email the Produce Plus hotline at (202) 888-4834 or [email protected]