Mayor Announces Health Centers Offering Free Immunizations for Children and Teens Across All Eight Wards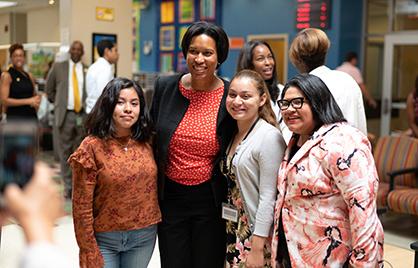 (Washington, DC) – Mayor Muriel Bowser urged DC parents to have their children receive immunizations before school starts, stressing the importance of immunizations for children and teens attending schools in the District. Specifically, as part of the #dontwaitvaccinate campaign, the Mayor highlighted the importance of ensuring children and teens are up-to-date on the measles vaccine and announced sites across DC where families can access free immunizations.
"Immunizations are the single most important way to protect families against serious and sometimes deadly diseases," said Mayor Bowser. "Vaccines are safe and effective, and free services are available in all eight wards. To protect the entire community, especially residents who are unable to safely receive the vaccine themselves, it is critical we get as close to universal vaccination as possible."
According to the latest preliminary data from the Centers for Disease Control and Prevention (CDC), 1,109 individual cases of measles have been confirmed in 28 states from January 1 to July 3, 2019. While there have been no reported cases in the District, cases have been reported in Northern Virginia, Maryland and Pennsylvania, states with high numbers of commuters to and from the District.
Current vaccination rates by education setting in Washington, DC for the Measles-Mumps-Rubella (MMR) vaccine are below:
MMR Compliance Report By School Type as of June 10, 2019

School Type

Number of Schools

Immunization Compliance

Public

113

93.02%

Charter

124

93.25%

Private

51

91.95%

Parochial

20

87.29%

LCDC

394

89.72%
To prevent measles from spreading in a community, 95% of the population should be vaccinated. This protects all residents and especially those residents who are unable to safely receive the vaccine themselves such as newborns or people who are immunocompromised.
"As students in all District schools are required to provide up-to-date immunization records, families are informed on a consistent basis regarding health requirements for children," said Deputy Mayor for Education Paul Kihn. "We also encourage families to schedule annual exams as a way to ensure health records of each student are up to date and remain current."
Below is a list of 42 community health centers, federally qualified health centers, and school-based health centers in the District, where families can receive immunizations.
Ward 1
Children's Health Center: Adams Morgan
1630 Euclid Street NW
Washington, DC 20009
(202) 476-5580
Children's Health Center: Shaw
2220 11th Street NW
Washington, DC 20001
(202) 476-5500
Community of Hope:
Marie Reed Health Center
2250 Champlain Street NW
Washington, DC 20009
(202) 540-9857
Howard University Faculty Practice Plan
Department of Pediatrics
2014 Georgia Avenue NW, Rm 3300
Washington, DC 20060
(202) 865-3006
La Clinica Del Pueblo
2831 15th Street NW
Washington, DC 20009
(202) 462-4788
Mary's Center: Adams Morgan
2333 Ontario Road NW
Washington, DC 20009
(844) 796-2797
Spanish Catholic Charities
1618 Monroe Street NW
Washington, DC 20010
(202) 798-5546
Unity Health Care:
Columbia Road Health Center
1660 Columbia Road NW
Washington, DC 20009
(202) 328-3717
Unity Health Care:
Upper Cardozo Health Center
3020 14th Street NW
Washington, DC 20009
(202) 745-4300
Ward 2
Children's Pediatricians & Associates:
Foggy Bottom
2021 K Street NW, Suite 800
Washington, DC 20006
(202) 833-3197
Medical Home Development
2112 F Street NW, Suite 504
Washington, DC 20037
(202) 684-2784
Office of Dr. M. Barnes-Marshall
2440 M Street NW, Suite 317
Washington, DC 20037
(202) 775-5990
Ward 3
MedStar Georgetown Pediatrics & Gynecology at Tenleytown
4200 Wisconsin Avenue NW
Washington, DC 20016
(202) 243-3400
Ward 4
Andromeda Transcultural Health
1400 Decatur Street NW
Washington, DC 20011
(202) 291-4707
Children's Medical Care Center: Corders
5425 14th Street NW
Washington, DC 20011
(202) 291-0147
Mary's Center: Petworth
3912 Georgia Avenue NW
Washington, DC 20011
(202) 483-8196
Ward 5
Children's Health Center:
Sheikh Zayed Campus
111 Michigan Avenue NW
Washington, DC 20010
Children's Health Center: (202) 476-2123
Adolescent Health Center: (202) 476-5464
Community of Hope:
Family Health & Birth Center
801 17th Street NE
Washington, DC 20002
(202) 398-5520
Mary's Center: Fort Totten
100 Gallatin Street NE
Washington, DC 20011
(844) 796-2797
Office of Dr. M. Grissom
2817 12th Street NE
Washington, DC 20017
(202) 526-1030
Office of Dr. M. McKnight
106 Irving Street NW, Suite 2300
Washington, DC 20010
(202) 291-6257
Pediatric Professionals
106 Irving Street NW, Suite 306
Washington, DC 20010
(202) 291-2900
Providence Family Medicine
1160 Varum Street NE,
Suite 110 Medical Building
Washington, DC 20017
(202) 854-4090
Unity Health Care:
Brentwood Health Center
1251-B Saratoga Avenue NE
Washington, DC 20018
(202) 832-8818
Ward 6
Bread for the City: Northwest Center
1525 7th Street NW
Washington, DC 20001
(202) 265-2400
Children's Pediatricians & Associates:
Capitol Hill
650 Pennsylvania Avenue SE, Suite C-100
Washington, DC 20003
(202) 833-4543
Providence's Perry Family Health Center
128 M Street NW, Suite 50
Washington, DC 20001
(202) 854-3840
Unity Health Care:
Southwest Health Center
555 L Street SE
Washington, DC 20003
(202) 548-4520
Ward 7
Children's Pediatricians & Associates:
Fort Davis
3839 1/2 Alabama Avenue SE
Washington, DC 20020
(202) 582-6800
Elaine Ellis Center of Health
1628 Kenilworth Avenue NE
Washington, DC 20019
(202) 803-2340
Unity Health Care:
East of the River Health Center
4414 Benning Road NE
Washington, DC 20019
(202) 388-7891
Unity Health Care:
Minnesota Avenue Health Center
3924 Minnesota Avenue NE
Washington, DC 20019
(202) 398-8683
Unity Health Care: Parkside Health Center
765 Kenilworth Terrace NE
Washington, DC 20019
(202) 388-8160
Ward 8
Children's Health Center: Anacostia
2101 Martin Luther King Jr. Avenue SE
5th Floor
Washington, DC 20020
(202) 476-6900
Children's Health Center: The ARC
1801 Mississippi Avenue SE
Washington, DC 20020
(202) 436-3060
Community of Hope:
Conway Health & Resource Center
4 Atlantic Street SW
Washington, DC 20032
(202) 540-9857
Core Health & Wellness Center:
Sheridan Station
2516 Sheridan Road SE, Suite A
Washington, DC 20020
(202) 610-6106
Core Health & Wellness Center:
United Medical Center
1328 Southern Avenue SE, Suite 210
Washington, DC 20032
(202) 574-6618
Family and Medical Counseling Services, Inc.
2041 Martin Luther King Jr. Avenue SE
Washington, DC 20020
(202) 889-7900
Office of Dr. S. Goyal
1328 Southern Avenue SE, Suite 316
Washington, DC 20032
(202) 562-4100
Unity Health Care:
Anacostia Health Center
1500 Galen Street SE
Washington, DC 20020
(202) 469-4699
Unity Health Care:
Stanton Rd Health Center
3240 Stanton Road SE
Washington, DC 20020
(202) 889-3754