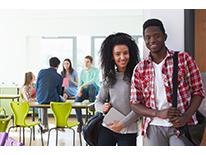 Become a member of the DC Health Youth Advisory Council
The District of Columbia Department of Health (DC Health) seeks to establish its first-ever Youth Advisory Council (YAC) to promote health and build leadership skills among DC youth. To empower the next generation of DC leaders and public health professionals, the YAC will contribute to the work of the Maternal and Child Health Advisory Council and DC Health's Community Health Administration.
The YAC will be comprised of 20 young people, ages 14-21, who live in DC and have an interest in ensuring better health outcomes for other young people and their communities. YAC members will be trained on current and emerging public health topics and will assist in guiding program and policy decisions. YAC members will work on projects and presentations that address relevant health topics and assist in the creation of public service announcements.
Benefits of the Youth Advisory Council
Gain valuable leadership and service experience.
Increase knowledge about key public health policies and programs.
Exposure to a broad range of professionals in the field of public health.
Create and lead advocacy efforts to influence the healthcare of DC youth.
If you are interested in becoming a member of the DC Health Youth Advisory Council, please contact [email protected].
Service Location:
GIS Address:
899 North Capitol Street, NE