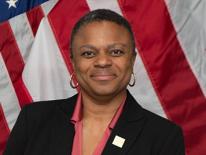 Ayanna Bennett, MD, MSPH, FAAP, is appointed Acting Director of the Department of Health (DC Health). Dr. Bennett is a healthcare and public health executive with more than 20 years of experience in clinical practice, clinical service design, system integration and quality improvement. Dr. Bennett most recently served as Chief Health Equity Officer and Director of the San Francisco Department of Public Health's Office of Health Equity, where she focused on quality improvements and sustaining systemic change through policy improvement.
Dr. Bennett joined the San Francisco Department of Public Health in 2016 as the inaugural Director of Interdivisional Initiatives, where she supported initiatives that combined the resources of the department, such as research, education, community engagement and health care delivery. Her work included a focus on long-term population-based initiatives like the Black African American Health Initiative, which sought to address the health disparities of San Francisco's African American residents. During her tenure at the San Francisco Department of Public Health, Dr. Bennett also worked as a part-time clinician, while maintaining a private pediatric practice in the East Bay. In 2004, Dr. Bennett began working with community members to establish the 3rd Street Youth Center and Clinic in Bayview, California, where she served as Medical Director and then Executive Director until 2016.
Dr. Bennett holds a Bachelor of Arts from Stanford University, a Master of Science from the School of Public Health at the University of California, Berkeley, and a doctorate of medicine and pediatric residency from the University of California, San Francisco.