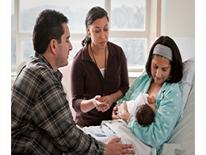 Prepare for Breastfeeding in the Hospital
Prepare for breastfeeding before birth:
Get good prenatal care, which can help you avoid premature birth and a baby in the hospital after you go home. Premature babies (born before 39 weeks of pregnancy) have more problems with breastfeeding than full-term babies.
Tell your doctor about your plans to breastfeed, and ask if the place where you plan to deliver your baby has the staff and setup to support breastfeeding after childbirth. Some hospitals and birth centers have taken special steps to create the best possible environment for supporting breastfeeding. These places are called Baby Friendly Hospitals and Birthing Centers.
Take a breastfeeding class. Pregnant women who learn about how to breastfeed are more likely to breastfeed than those who do not. Breastfeeding classes offer pregnant women and their partners the chance to prepare and ask questions before the baby's arrival.
Ask your doctor to recommend a lactation consultant. You can establish a relationship with a lactation consultant before your baby comes so that you will have support ready after your baby is born.
Talk to your doctor about your health. Discuss any breast surgery or injury you may have had. If you have depression, or are taking supplements or medicines, talk with your doctor about treatments that can work with breastfeeding.
Tell your doctor that you would like to breastfeed as soon as possible after delivery. The sucking instinct is very strong within the baby's first hour of life.
Talk to your doctor about your birth control options after delivery. Some types of birth control interfere with breastfeeding, but many do not.
Talk to friends who have breastfed, or consider joining a breastfeeding support group.
Steps you can take right after birth to get you off to a great start breastfeeding:
Cuddle with your baby skin-to-skin right away after giving birth if you are both healthy.
Breastfeed as soon as possible after giving birth.
Ask for a lactation consultant to help you.
Ask the hospital staff not to give your baby pacifiers, sugar water, or formula, unless it is medically necessary.
Let your baby stay in your hospital room all day and night so that you can breastfeed often.
Try not to give your baby any pacifiers or artificial nipples until he or she is good at latching on to your breast (usually around 3 to 4 weeks old).
Breastfeeding Hospital Preparation Resources
Medical Providers
Your role as a medical provider is crucial in promoting and supporting breastfeeding. Medical providers' attitudes about breastfeeding significantly impacts breastfeeding rates. If a medical provider has a positive attitude and encourages breastfeeding, mothers are much more likely to initiate breastfeeding.
Prenatal breastfeeding education has the biggest effect of any single intervention on improving breastfeeding initiation and duration rates. There are many effective methods to educate mothers prenatally about breastfeeding including structured group and individual classes.
Medical Providers Resources