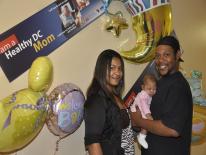 What is Healthy Start?
DC Healthy Start is a program for residents of Wards 5, 7 and 8 of the District of Columbia that provides services, referrals, and support for all women, parents, and infants up to 18 months of age by addressing their health and social service needs. DC Healthy Start is a federally funded program under the Health Resources and Services Administration (HRSA) that aims to improve health outcomes before, during and after pregnancy, and reduce racial/ethnic differences in rates of infant death and adverse perinatal outcomes. The program accomplishes this by providing participants with case management, care coordination, and perinatal health support services such as group prenatal care and doula support to communities that have the highest rates of infant mortality and poor maternal health outcomes in the District, helping to strengthen linkages to care and birthing support.
What kind of services can I receive through DC Healthy Start?
Care Coordination/Case Management Services to assist participants in navigating the health care system and linkages to community resources based on social needs

Group Prenatal Care using the Centering Pregnancy evidence-based model

Doula Support Services during pregnancy, labor and delivery and the early postpartum period

Reproductive Life Planning to either prepare for pregnancy or avoid pregnancy with effective contraception

Health Education and Promotion on topics such as nutrition and substance abstinence

Comprehensive Health and Wellness Screenings and Referrals for maternal depression, domestic violence, substance use, and developmental delays

Breastfeeding Support from Certified Lactation Counselors and connection to resources to support breastfeeding initiation and duration

Free transportation to attend perinatal care appointments

Fatherhood Support Services such as promotion of fatherhood involvement in family activities, referrals to fatherhood support programs, education on topics such as pregnancy, childbirth, child development, and the 24/7 Dad evidence-based fatherhood curriculum
How can I enroll in DC Healthy Start?
For more information on enrolling in DC Healthy Start
Service Contact:
Perinatal and Infant Health Bureau
Office Hours:
Monday through Friday 8:15 am – 4:45 pm