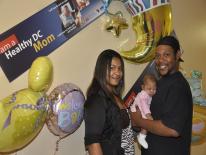 What is Healthy Start?
DC Healthy Start is a program for the residents of the District of Columbia that provides support and referrals for services and resources for all women, parents and infants up to 2 years of age. DC Healthy Start is a federally funded program under the Health Resources and Service Administration (HRSA) that aims to improve birth outcomes for infants and women of child bearing age. Healthy Start's overall goals are to reduce differences in access to health services, improve the quality of the local health care system, empower women and their families and increase community participation in health care decisions.
What kind of services can I receive through DC Healthy Start?
Care Coordination/Case Management Services
Reproductive Life Planning
Health Education
Health and Wellness Screenings
Centering Pregnancy Sessions
Breastfeeding Support
Parenting Classes• Male Support Services for Parenting Fathers
How can I enroll in DC Healthy Start?
Call 1 (800) MOM BABY, 1 (800) 666-2229 or email [email protected] for more information on enrolling in DC Healthy Start.
Service Contact:
Perinatal and Infant Health Bureau
Office Hours:
Monday through Friday 8:15 am – 4:45 pm