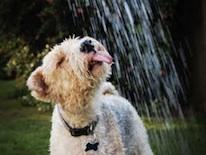 Dog licenses are issued by the Animal Services Program. To obtain a dog license, an owner must show proof of a valid rabies and distemper vaccination. DC law requires dog licenses to be renewed annually. More information regarding how to obtain a valid license can be found below.
Legal Requirements
The DC Code 8-1804 reads as follows:
(b) An owner who has a dog over the age of four months shall before July 1st of each year, or within 10 days of acquiring the dog, or within 10 days after the dog becomes four months of age, obtain an annual license. An owner shall ensure that his dog wears a collar and a license.
(c) Before any annual license may be issued, the owner of the dog shall have the dog vaccinated against rabies and distemper, and shall pay any outstanding fines.

(e) The annual license fees for dogs is as follows:
(1) No fee for a dog trained as a service animal and actually used for the purpose of assisting a person with a physical or sensory impairment, such as a vision or hearing impairment;
(2) $15 for a male or female dog certified by a licensed veterinarian as neutered or spayed or certified as incapable of enduring spaying or neutering; and
(3) $50 for all other dogs.
(Incapable as in unable to do or achieve due to a medical condition that would prohibit the ability to have the procedure of spay/neuter done in its lifetime)
Application/Processing Requirements
Please read and follow the instructions below carefully. A correctly completed application will expedite the issuance of your dog license.
Please complete your application with current information.
Please write/type your complete mailing address including the apartment/unit number (if applicable)
Proof of rabies and distemper vaccinations is required.
Proof of sterilization (spaying or neutering) is required.
Each dog over four months old must have his/her own license.
Owners with seven or more dogs over four months old must apply for a hobby license.
Please allow our office 4-6 weeks to receive, review and process each mailed in application.
License Renewal
Prior to the expiration of your license, the Animal Services Program ask that all owners submit renewal applications (30) days before the expiration date. The initial licensing fee and the renewal fee are the same. A completed license renewal application must include the following:
Proof of valid rabies and distemper vaccination
Proof of sterilization (spaying or neutering) or proof of certification by DC Health that the sterilization requirement has been waived
All dog owners are responsible for annually renewing the license. Each dog over four months old must have his/her own license. Owners with seven or more dogs over four months old must also obtain a valid hobby license prior to obtaining license renewals for each owned dog. Permanent dog license tag numbers can be written on your form in the OFFICE ONLY box. If you need a replacement tag, our office can replacement it at no charge. Write the old permanent tag number on your application and next beside the number, write: REPLACEMENT TAG.

HOW TO SUBMIT A DOG LICENSE APPLICATION:
Effective August 1, 2018, the District of Columbia Health Regulation and Licensing Administration Online Licensing Portal for dog license registration will be temporarily closed. Until further notice, applications will be accepted via regular mail or on a walk-in basis at the following locations:
DC Health/Health Regulations and Licensing Administration
899 North Capitol Street NE, 2nd Floor
Washington, DC 20002
202-535-2323
Hours of Operation
Monday - Friday, 9:00 am - 4:30 pm (All forms of payment are accepted)
DC Animal Care & Control
1201 New York Avenue NE
Washington, DC 20002
202-576-6664
Hours of Operation
Tuesday - Sunday, 12:00 pm - 7:00 pm
Oglethorpe Street Adoption Center
& Medical Center
202-726-2273
Hours of Operation
9:00 am - 5:00 pm, Monday - Thursday
9:00 am - 4:00 pm, Friday

By Mail
Please forward the required documentation along with a check or money order made out to "DC Treasurer" to:
Department of Health
P.O. Box 37804
Washington, DC 20013
Please allow 4-6 weeks to receive, review and process your application.

In Person
Please bring the required documentation to the address above Monday through Friday, 9:00 am to 4:00 pm
Please call the number above to arrange necessary provisions for special needs applicants
Veterinary Clinics (new licenses only)*
Don't see your veterinarian listed? Call and ask them to participate in the dog licensing program!
Humane Rescue Alliance Medical Center
71 Oglethorpe St., NW
Washington, DC 20011
Call (202) 726- 2556 for more information
* DC Official Code § 3-512.02 allows licensed veterinarians to collect an additional $2 fee as reimbursement for administrative costs associated with Dog Licensing.
Office Hours:
Monday to Friday 8:15 am to 4:45 pm