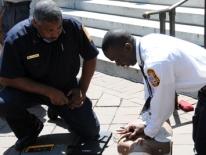 CPR Training
You don't have to be a professional EMS responder to help save a life! There is a lot that you can do, like learning how to perform CPR.
DC Fire & EMS Department Training Courses
The DC Fire & EMS Department offers CPR training to members of the community on the first and fourth Thursday of every month. The class provides students with certification in CPR for Adult, Child and Infant. Upon successful completion of the four-hour training course, participants will receive CPR certification cards good for two years.
Class size is limited, and pre registration is required.
For more information contact the DC Fire & EMS Department Training Academy at (202) 673-3245 or (202) 673-6901.
Serve DC Training Courses
ServeDC offers CPR training, plus a variety of other free emergency preparedness training courses. To find out about the next CPR course, or to view other trainings that they offer, visit the ServeDC website or call them at (202) 727-7925.
Public Access to Defibrillation
Automated External Defibrillators (AEDs) have been shown to make a significant difference in surviving a cardiac arrest. If your building has an AED or if your are considering purchasing an AED, you need to contact the DC Fire & EMS Department's Public AED Program.

Service Contact:
Emergency Medical Services Division of the Department of Health - HEPRA
Office Hours:
Monday to Friday, 8:15 am to 4:45 pm