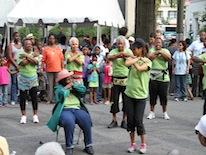 Physical activity is a key part of living a healthy life. The Department of Health (DC Health) supports a number of initiatives to encourage DC residents to engage in physical activity as a way to improve and maintain their health. These initiatives include:
Establishing a "joint-use agreement" to allow District residents to use school fields for walking, running or other physical activity outside of school hours and providing funds to DCPS for related signage.
Parks Prescription program: DC Health has been working with the DC Academy of Pediatrics and George Washington University to develop materials and strategies to encourage pediatricians to "prescribe" visits to neighborhood parks for their patients. The materials that DC Health has been developing, provide parents with information on their neighborhood (local and National Park Service parks).
Researching and producing a White or Green Paper on the feasibility and benefits of pursuing 3rd party reimbursements through Medicaid for community fitness providers.
Instant Recess® (IR®) School Pilot in select DC schools, bringing ten-minutes of fun, organized physical activity into classrooms throughout the week. The pilot targets 5th graders in Wards 5, 7, and 8. DC Health is also working with community partners to develop a "break" targeting DC youth to interest them in the IR®. DC Health plans to track and measure the results of the pilot. Visit www.InstantRecess.org for more information.
For more information on DC Health's activities to promote physical activity and fitness, please contact (202) 442-9397.
Service Contact:
Nutrition and Physical Fitness Bureau
Office Hours:
Monday to Friday 8 am to 5 pm