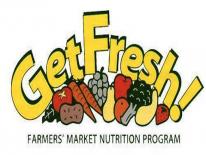 What is the Senior Farmers' Market Nutrition Program (SFMNP)?
The purpose of the SFMNP is to provide fresh fruits and vegetables to senior citizens of the District of Columbia who are eligible for CSFP. The program expands the awareness and use of farmers' markets, and also supports and promotes the daily consumption of fresh fruits and vegetables.
The District of Columbia's SFMNP, called "Get Fresh," began in June 2001. The program now operates from May 1 through November 30th.
Who is eligible to participate in SFMNP?
Seniors (60 years and older) who receive CSFP benefits are eligible to participate in the SFMNP.
What is the benefit of participating in the SFMNP?
Under the SFMNP, recipients receive six checks valued at $5 each, for a total value of $30. These checks are used to purchase fresh fruits and vegetables. Checks are issued to seniors between May 1st and September 30th. These checks can be used between May 1 and November 30th.
How does SFMNP work?
Seniors may receive their 'Get Fresh Checks' when they come to pick up their monthly CSFP food package. Checks are issued from May 1st thru September 30th. They may be redeemed thru November 30th. The CSFP certifier explains how to use the checks, when and where they can be used, and the foods that can be purchased. The participant takes the checks to an authorized farmer and redeems them for the approved fresh fruits and vegetables. No change is given when the participant purchases less than $5 worth of produce. If the purchase is over $5, the CSFP participant must pay the difference in cash or food stamps.
Service Contact:
Gregory Foy, Program Assistant
Office Hours:
Monday to Friday 9 am to 5:30 pm
Service Location:
GIS Address:
899 North Capitol Street, NE