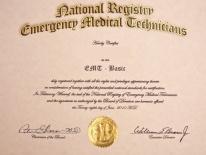 All EMS providers in the District must be currently certified by the National Registry of Emergency Medical Technicians (NREMT), and they must maintain NREMT certification to maintain District Certification. Additionally, all District EMS providers must be sponsored by a certified District EMS response organization or educational institution. The application must be signed by the Medical Director of the sponsoring institution, verifying your sponsorship by the organization.
Check the Status of a District of Columbia EMS Provider Certification
The EMS Program of the Department of Health maintains a list of individuals who have gained and maintained status as a District Certified Emergency Medical Responder (EMR), Emergency Medical Technician (EMT), Advanced EMT, EMT-Intermediate, and/or Paramedic. To determine if an individual possesses a District certification, you can choose to search by last name or District certification number.
Note: Search results will return a list of names of individuals who possess District certification at one of the levels indicated above. Individuals using the search page should verify the search results and the current certification status by contacting the EMS Office at (202) 671-4222 or (202) 671-0690 for confirmation.
Service Contact:
Emergency Medical Services Division of the Department of Health - HEPRA