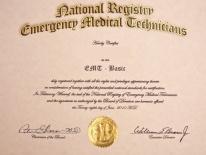 All EMS providers in the District must be currently certified by the National Registry of Emergency Medical Technicians (NREMT), and they must maintain NREMT certification to maintain District Certification. Additionally, all District EMS providers must be sponsored by a certified District EMS response organization or educational institution. The application must be signed by the Medical Director of the sponsoring institution, verifying your sponsorship by the organization.
NEW - Check the Status of a District of Columbia EMS Provider Certification
The EMS Division of the Department of Health maintains a list of individuals who have gained and maintained status as a District Certified Emergency Medical Responder (EMR), Emergency Medical Technician (EMT), Advanced EMT, EMT-Intermediate, and/or Paramedic. To determine if an individual possesses a District certification, you can choose to search by last name or District certification number.
Note: Search results will return a list of names of individuals who possess District certification at one of the levels indicated above. Individuals using the search page should verify the search results and the current certification status by contacting the EMS Office at (202) 671-4222 or (202) 671-0690 for confirmation.
Search the EMS Provider Certification database
EMS Training
The Department of Health does not provide EMT training. We certify the educational institutions that provide EMT training in the District. If you are interested in obtaining training as an EMS provider, there is a listing of certified training centers at the bottom of this page. Please contact the individual training centers on this list to obtain information about upcoming courses, entry requirements and costs.
Online Application Process
Beginning in February 2014, a new online application process was instituted. Providers eligible to use the system will receive an e-mail granting them access to the system by their sponsoring agency. Paper applications are no longer being accepted.
Service Contact:
Emergency Medical Services Division of the Department of Health - HEPRA
Office Hours:
Monday to Friday 8:15 am to 4:45 pm