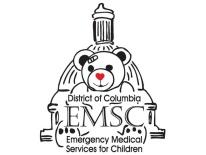 The Emergency Medical Services for Children (EMSC) program supports improvements in the quality of pediatric medical care to reduce childhood morbidity and mortality resulting from severe illness or trauma. This federal initiative evolved out of a growing recognition that children have unique needs in emergency situations, which often vary from those of adults due to physiological, developmental, and psychological differences. The program is federally-funded to expand and improve emergency medical services for children in each state.
Since its establishment in 1984, the EMSC has improved the availability of child-appropriate equipment in ambulances and emergency departments. Through grants to states and territories, it supports hundreds of programs to prevent injuries and provides thousands of hours of training to Emergency Medical Technicians (EMT's), Paramedics, and other emergency medical care providers.
Support for the EMSC program led to legislation mandating EMSC programs in several states and the development of educational materials to cover every aspect of pediatric emergency care.
EMSC in the Nation's Capital
Children's National Medical Center is an ideal location for the District of Columbia EMSC program due to the expertise and data that rests within the emergency department and local response system. Proximity to policy makers, related advocacy groups and national organizations are added benefits. EMSC has an ongoing relationship with the DC Department of Health. This partnership successfully revised the pre-hospital pediatric protocols to reflect a state-of-the-art standard of care adapted to the needs of the nation's capital. The DC EMSC program facilitates direct and indirect pediatric medical oversight for pre-hospital care through updated protocols and education courses such as PALS (Pediatric Advance Life Support).
District of Columbia EMSC
The District of Columbia's current EMSC grant, "Operational Capacity, Training Maintenance, and EMSC Permanence in the District of Columbia" aims to:
Assess specific performance measures related to the District's operational capacity to provide appropriate and effective pediatric emergency care, including on-line and off-line medical direction, pre-hospital ambulance equipment and supplies, hospital recognition process, and inter-facility transfer agreements.
Promote and monitor the adoption of requirements for pediatric education for Basic Life Support (BLS) and Advance Life Support (ALS) field providers.
Advocate for and monitor the established permanence of education and protocolization of EMSC in the District's EMS system.
Establish EMSC permanence in District of Columbia statues and rules.

[PDF] These documents are presented in Portable Document Format (PDF). A PDF reader is required for viewing. Download a PDF Reader or learn more about PDFs.
Service Contact:
Emergency Medical Services Division of the Department of Health - HEPRA
Office Hours:
Monday to Friday, 8:15 am to 4:45 pm
Service Location:
GIS Address:
899 North Capitol Street, NE