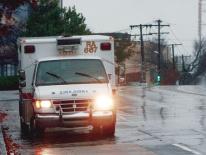 The District of Columbia's Emergency Medical Services (EMS) system operates in a coordinated partnership among various organizations to provide high quality pre-hospital medical care to eight acute care hospitals in the District of Columbia.

Basic Life Support (BLS) services are provided by every EMS ambulance service in the District. These providers, certified as Emergency Medical Technicians (EMT), provide a number of life saving techniques. They are capable of providing non-invasive care such as oxygen administration, stabilization of fractures, protection of the cervical spine, perform CPR and utilize Automated External Defibrillators (AEDs). In the District, the EMT is the most prolific EMS provider, making up over 80% of all certified EMS providers in the District.

Advanced Life Support (ALS) services are provided by several ambulance services and all of our helicopter services in the District. These providers, certified as Paramedics or EMT-Intermediates, can perform advanced, invasive procedures such as cardiac monitoring, intravenous (IV) cannulation, administer medications and insert advanced airway devices. They comprise the remaining component of our EMS providers.

In the District, 9-1-1 calls for emergency medical services are primarily responded to by the DC Fire & EMS Department (DC FEMS). The DC FEMS runs a mixed fleet of Basic and Advanced Life Support ambulances, as well as Emergency Medical Technician and Paramedic first responders. There are two university-based BLS providers; the Emergency Medical Response Group (EMeRG) at the George Washington University and Georgetown Emergency Response Medical System (GERMS) at Georgetown University.

There are several commercial ambulance services that provide both ALS and BLS services in the District. Their services are primarily used for inter-facility transports and special events. We also provide a listing of all the current ambulance service providers in the District.

---
[PDF] This document is presented in Portable Document Format (PDF). A PDF reader is required for viewing. Download a PDF Reader or learn more about PDFs.
Service Contact:
Emergency Medical Services Division of the Department of Health - HEPRA
Office Hours:
Monday to Friday 8:15 am to 4:45 pm
Service Location:
GIS Address:
899 North Capitol Street, NE