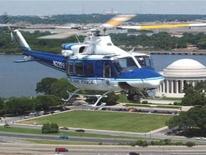 The use of helicopters in Emergency Medical Services has expanded over the years. We are very fortunate to have several helicopter services available in the District of Columbia. The United States Park Police Aviation Division has been providing medical rescue and evacuation services since 1973. MedSTAR Transport is a non-profit service based out of Washington Hospital Center that began in 1983. Finally, SkyBear Air Transport from Children's National Transport Medicine is the latest helicopter service. Started in 2007 it operates out of the Children's National Medical Center.
Safety of Air Medical Services
In recent years, the safety of Air Medical Operations has been raised due to several high profile Med-Evac crashes. The safety of Air Medical operations falls under the oversight of the Federal Aviation Administration.
Service Contact:
Emergency Medical Services Division of the Department of Health - HEPRA
Office Hours:
Monday to Friday 8:15 am to 4;45 pm