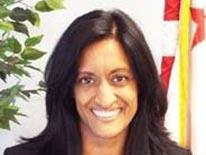 Anjali Talwalkar, MD, MPH currently serves as the Interim Senior Deputy Director for the HIV/AIDS, Hepatitis, STD and TB Administration (HAHSTA) at the District of Columbia Department of Health (DC Health).
The HIV/AIDS, Hepatitis, STD and TB Administration (HAHSTA) is the core District government agency to prevent HIV/AIDS, STDs, Tuberculosis and Hepatitis, reduce transmission of the diseases and provide care and treatment to persons with the diseases.
Prior to this role, she served as Medical Officer at the CDC's National Center for Health Statistics where she provided clinical expertise to health care survey development and dissemination of national health care data. She has previously worked in state and local health departments, including as Deputy Director for Policy and Programs for the Community Health Administration at DC Health, as well as Director of Asthma Programs and Director of Program Development for the New York City Department of Health and Mental Hygiene's Harlem District Public Health Office.
Dr. Talwalkar received an undergraduate degree from Brown University, a medical degree from the University of Illinois at Chicago, and a master's degree in public health from the Harvard School of Public Health. She completed her residency in preventive medicine and public health at the Mount Sinai School of Medicine.