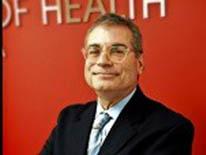 Michael Kharfen is the Senior Deputy Director of the HIV/AIDS, Hepatitis, STD and TB Administration at the District of Columbia Department of Health (DC Health). He has 30 years of experience in public health and human services with federal and local governments and non-profit organizations.
At DC Health, his priorities include collaborating with community partners and regional health departments to develop and implement Mayor Muriel Bowser's 90/90/90/50 Plan to end the HIV epidemic in the District of Columbia by 2020; improving health outcomes for persons living with HIV; advancing awareness of Undetectable equals Untransmittable (U=U); increasing use of Pre-Exposure Prophylaxis (PrEP); furthering the timeliness of data on HIV and other epidemics; addressing health equity and social determinants of health needs; ensuring access to harm reduction/syringe services; expanding sexual and TB health and wellness services; promoting research and public-private collaborations; and eliminating hepatitis C in DC.
His prior experience includes public affairs at US Department of Health and Human Services and community director for the Mayor of New York. He serves on the executive committees of the DC Center for AIDS Research and the DC Partnership for HIV/AIDS Progress and Secretary/Treasurer of NASTAD (state HIV directors) and board member of the National Coalition of STD Directors.