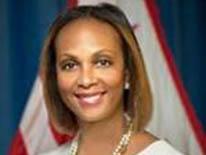 Jacqueline A. Watson, DO, MBA, a family medicine physician by clinical training, is the Chief of Staff for the District of Columbia Department of Health (DC Health).
As DC Health's Chief of Staff, Dr. Watson is a member of the executive team and is responsible for working with the senior leadership across six programmatic areas on developing and executing program plans and recommending strategies that ensure that DC Health delivers evidence-based, evidence-informed and promising public health practices and services that meet the needs of District residents.
Dr. Watson has management oversight of DC Health's Office of Communications and Community Relations, Office of Government and Legislative Affairs, and Organizational Strategic Planning. She is also responsible for coordinating with the Chief Operating Officer to oversee Agency Performance Management and Workforce Development.
Prior to assuming the Chief of Staff role in 2015, Dr. Watson served as the Executive Director of DC Health's Boards of Medicine and Chiropractic in the Health Regulation and Licensing Administration. As the Executive Director, Dr. Watson was responsible for working with the mayoral appointed board to manage the oversight of the professional licensure, credentialing, and regulatory compliance of over 13,000 health care professionals in the District. Under her leadership, the board published the first workforce capacity report for physicians and physician assistants and developed the Telemedicine guidelines for the District.
Dr. Watson is a graduate of Howard University, Washington, DC (B.S.); New York College of Osteopathic Medicine, Long Island, NY (D.O.); Georgetown University School of Medicine/Providence Hospital Family Medicine Residency Program, Washington, DC; and The George Washington University School of Business and Public Management, Washington, DC (MBA).