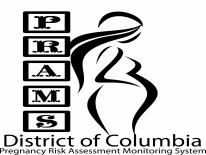 Pregnancy Risk Assessment Monitoring System (PRAMS)
PRAMS is a surveillance project of the Centers for Disease Control and Prevention (CDC) and state health departments. PRAMS collects state-specific, population-based data on maternal attitudes and experiences before, during, and shortly after pregnancy. PRAMS is a confidential survey that collects information from women who have recently given birth. The purpose of PRAMS is to improve the health of new mothers and their babies. In 2016, forty-seven states, New York City, Puerto Rico, District of Columbia and Great Plains Tribal Chairmen's Health Board (GPTCHB) currently participate in PRAMS, representing approximately 83% of all U.S. live births.
How is PRAMS Data Collected?
Participants are picked at random, like a lottery, from the DC birth certificate registry. Each month about 200 women who recently gave birth are chosen at random by the Department of Health to receive the survey. If you are selected, the survey will be mailed to you and you will be asked to fill it out. All responses will be returned to the District of Columbia Department of Health and will be kept confidential. Upon receipt of the survey a special gift of $25 will be mailed to the participant.
How is PRAMS Data Used?
PRAMS data will shed light on maternal, infant and child health in the District of Columbia, an area that is plagued by persistent health disparities, most notably in infant mortality rates. Additionally, PRAMS data will allow the District of Columbia Department of Health to analyze population-level trend data alongside stakeholders to coordinate efforts and evaluate strategies to improve health outcomes.
Office Hours:
Monday to Friday 8:15 am to 4:45 pm
Service Location:
GIS Address:
899 North Capitol Street, NE